Best Remodeling Projects

Curb Appeal Sells Homes

All home remodeling projects paid off big in Northern VA during the short real estate boom and many owners still have miss conceived ideas of what improvements pay. I will not soon forget the days of when owners could remodel a kitchen or bathroom in a home and earn an immediate hefty return on investment. Those days, however, did not last long and the financial returns seen are not realistic for a healthy real estate market. The best home improvements and trends do change and at times they can seem to go as quickly as they are popularized. There are a few principles, we all know them, which remain true and do stand the test of time and can be seen in the most recent Cost vs. Value report.

Every year Remodeling Magazine working in conjunction with REALTOR Magazine publish their annual report of Cost vs. Value for home remodeling projects. This report includes national averages but for my purpose I will concentrate on the Washington DC metro region which includes the best Northern VA home improvement projects.

To continue this article click this link, Best Remodeling Projects for your Northern VA Home.

They say a picture is worth a thousand words, when it comes to selling your home in Northern VA it could cost you tens of thousands of dollars. The National Association of Realtors reports in the "2011 NAR Profile of Home Buyers and Sellers" that 88% of home buyers are searching online for homes. This means the picture of your home showing weeds, rusted railing, paint chipping, and a dented mail box to name a few is being seen by 88% of the home buyers. What about the other 12% you ask? The majority of those buyers are driving by your home and not stopping to even look because of the 10 others that are for sale in the neighborhood.

Curb appeal, curb appeal, curb appeal are six important words you need to memorize when selling your home. Most of the buyers I have worked with and met have a mental pictures of the perfect home that fits their wants and needs.

To continue this article on my website, click this link, Northern VA Curb Appeal.
Community of the Week
Ayr Hill in Vienna VA.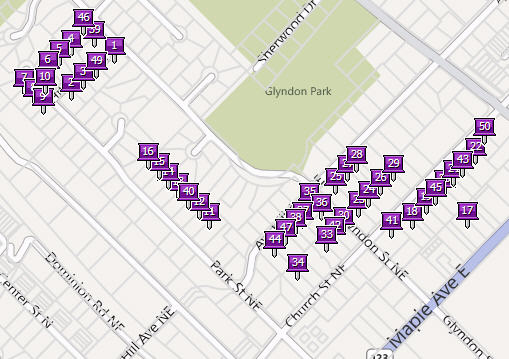 The Ayr Hill subdivision is small with just 54 properties but occupies an excellent location in the North East section of the Town of Vienna (see map). The Ayr Hill community, like many in the Town of Vienna, is an excellent walking community with easy access to many businesses on Church St. and Maple Ave. Many of the original homes were built in the 40ís and 50ís and the remainder being build through the decades since. In the most recent decade many of the original homes, particularly on Ayr Hill Ave, have been torn down and more modern larger Colonial or Adirondack style homes have been built. The location of this walkable community is highly sought after with newer homes or custom homes being priced from 1.2 to 2.2 million. With Vienna lot prices increasing it can make financial sense to tear down rather than remodel the existing older home. There are many opportunities for buyers looking to build a custom home or buy an existing small rambler in the Town of Vienna, contact me to visit the listing currently availability in Vienna or to meet with any local builders.
To continue this article or other community articles please click here, Ayr Hill Neighborhood, Vienna VA.
More Real Estate Articles